New 2012 product catalog
PurePro has launched its new website. The website features all of our products listed in our new product catalog and features a comprehensive technical support area.
PurePro® Marketing Materials
Flyers, Brochures and Posters are today an important marketing tool of any company and business
Great for promotions and displays
Powerful marketing tool
Print size 60x160 cm with X stand
Available for all PurePro units.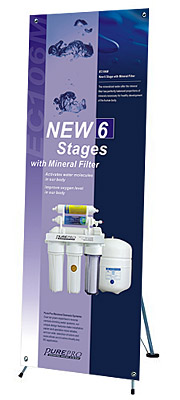 [ PurePro® USA Posters ] [ color boxes ] [ aquarium ro posters ] [ floor standing posters ] [ download product catalogue ] [ download user manuals ] [ International Dealer Opportunities ] [ alkaline ro posters ] [ luxury ro posters ] [ water ionizer posters ]